INpride, a newly formed Innis based group in support of LGBTQ+ students, is up and running. Though primarily aimed at supporting and advocating for students, INpride is also open to the wider University of Toronto community, including students, staff, faculty, and alumni. This week, I sat down with its co-presidents Jack McCrossin and Sabrina Lin to learn more about it.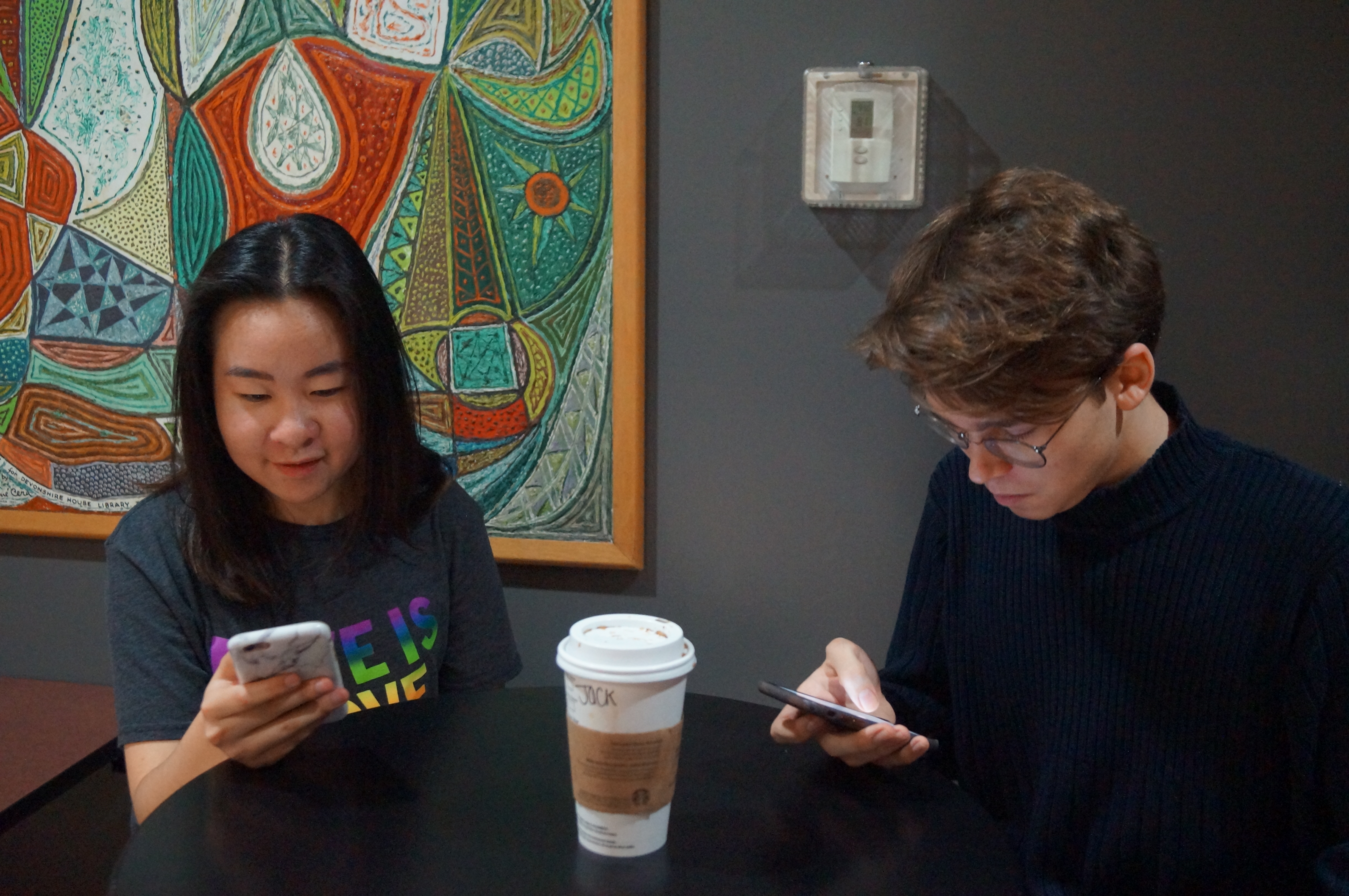 Can you introduce yourself, and tell me about what your role is with INpride?
Jack McCrossin: I'm Jack McCrossin, and I'm the co-president with Sabrina Lin.
Sabrina Lin: My name's Sabrina, and I'm the co-president of INpride. Jack and I decided to start up INpride again after it was dormant for a few years, because we thought it would be a really good way to create a space where you can actually build a community instead of the one-off events that a bunch of other queer organizations on campus do. It's nice to have something that's entirely a student space, with regular people.
What is INpride?
JM: INpride is a student group here at Innis College, for students that identify as LGBTQ+, or are allies of the LGBTQ+ community. We have bi-weekly meetings where we get together, and we talk about what's going on in our lives, what's going on in terms of the LGBTQ+ community on an international scale—I traveled here and there throughout my summers, and I've met a lot of gay people in places like Cambodia, and it's really frustrating to see how their issues have been neglected in a way. We've been focusing on so many other issues, but gay rights in developing countries is something that we haven't focused on. So we do focus on international issues, and I think I'd like to do more work on that in the meetings to come. But also, we have a prompt every week, and we just talk and discuss it. Last week was on labels in the gay community, and how they can be both restricting, and also create a sense of community and identity – like butch, femme, top, bottom. There are a lot of viewpoints you can take from it. We're there for support if anybody has questions about sexuality, wants to learn more about the LGBTQ+ community in Toronto, or on an international scale, or if they want to be an ally. You don't necessarily have to be within this LGBTQ+ community – we're accepting of everyone. If you need support, please reach out to us, email us, come to a meeting. We advocate for LGBTQ+ students and we want to create a space here at Innis so that they feel welcome, y'know? Because I wouldn't say I felt welcome coming here to Innis, and I think having an InPride group really contributes to that welcoming atmosphere. Even if people don't necessarily join [INpride], it's the fact that they know it's there, and it's comforting for a lot of people.
SL: Since we're really focused on trying to build a community, we have bi-weekly meetings, and we also host socials. This year, for Queer Orientation, we hosted Wine-sh and Cheese. We also do collaborations with a bunch of other queer organizations on campus.
How did INpride get started?
JM: It really came together in Winter last year, when Sabrina and I were making cookies in my suite, and it just came to me that, "y'know, why is there no pride group at Innis, but there's a pride group in literally every other college?" For me, coming in to residence, and struggling with sexual orientation, it would have been a resource that would have been really helpful for me, and I realized that there was a need to be filled. So I asked Sabrina to be my partner, because I know she's interested in LGBTQ+ issues as well. We have very contrasting personalities, but we work really really well together.
What would you say to people who want to be involved, but who are too shy to come to meetings? Or to students who haven't had an outlet to openly discuss their sexuality?
JM: For me, it was really difficult to talk about my sexual orientation, coming in to first year. So, if you ever wanted to talk to me or Sabrina – we've been through a lot of stuff, both her and I – we'd be more than happy to sit down and talk, we'll keep it private, of course. If you have any questions, we'd be happy to answer them. Send us an email, we're always quick with answering emails. But also, I just want people to know that the people going to InPride, and the executive team at InPride, are all super welcoming. They're totally accepting of everyone, regardless of your background. So if people are afraid, they really shouldn't be! Follow our Facebook page – that's where we'll post when and where all of our meetings are.
SL: It's a safe space, it's a positive space where everybody is there to learn, and we are really trying to make sure that everybody's judgement free and really understanding. We're all coming from different places, and we haven't all had the opportunity to learn about the queer community. You don't even have to be in the queer community – if you want to just come and learn and participate, you're more than welcome to do so. It's not like class, where you're getting points for participating. You can just come and listen and eat the food, you don't have to say anything if you don't want to. It's just really for everybody to enjoy the space, and take what you want out of it.
Do you do any events, outside of your regular meetings?
JM: We do have events. We're fortunate enough to have a pretty large budget this year. We're going to have a few different events, we still need to finalize exactly what we want to do. We know there might be a Winter holiday event coming up. At the end of the year, with whatever money we have left, we might to a big drag show, or a themed party. We also might have screenings, to show movies about LGBTQ+ issues. Once we approach an event, we'll advertise it on our Facebook page.
SL: We're going to be definitely doing a holiday party right after classes end and right before exams start, as kind of a de-stresser. And then we're going to be having a year-end party – we've had suggestions for an anti-Valentine's Day party, so we might do that. We're looking in to doing a November-ish exam destresser, like a self-care workshop, or something like that.
With this year's executive team already in place, what are other ways students can get involved with INpride, if they feel strongly about contributing to it?
JM: Coming to our meetings is something that's really important. But I'm always open to ideas, and I want students to have initiative. So, if you say "oh, I think INpride should be involved with such and such" or "I think this would be a good thing for INpride to do", please let us know. We're more than happy to take suggestions. Come to the discussions if you want to be involved, but speak to us in person, send us an email about the fact that you want to get more involved, and we can definitely talk about ways that that can happen.
SL: Well, we have events that happen throughout the school year, and it's always super great to have people come and contribute their ideas for an event, or come help set up. Honestly, just message the page or anybody from the exec, and we're more than happy to tell you what ways you can get involved. If there's a topic you really want to talk about, message us, and we'll definitely incorporate it. You can come to the meeting and be like "hey, I really want to do this", and we'll really try to incorporate that for a meeting in the future.
This is the first year that InPride has existed. Do you see it continuing in the future? Do you personally want to continue it, or is it something you want to pass on?
JM: Sabrina and I definitely will continue on in the future. We have plans to keep working with INpride to ensure that it's stable, to ensure its longevity throughout the years at U of T. But I'd love to be able to pass it on. I know there are first years within our executive team that would be more than happy to take on leadership positions.
SL: I'm definitely planning on continuing INpride up until I graduate, and then our exec team right now is super great – there's people in first year involved, people in second year involved, people in third year involved, so definitely if they stay on, we will eventually pass it down to whoever wants to take over. But since there was a lot of interest for the exec team, I feel pretty confident that it's going to continue.
InPride's been going for about two months now. How's it going so far?
JM: Over the Summer, it really took off, and people were very positive in terms of responding to it. We're on a lot of different social media platforms, and there's been a lot of talk – especially within the U of T LGBTQ+ community, InPride is quite well known now. I think we've done well in terms of advertising ourselves, and I think that'll help when we do larger events. There was definitely a lot of interest, especially after orientation. That's even when it became a bit larger, because there was a lot interest with first years, and we tried to promote it as much as we could to first years. Because, like I said, it was hard for me coming in to first year, and I don't want anyone going through that experience.
SL: I honestly think it's been going really great. The queer community at U of T has been really fantastic about it. Other organizations, like NewPride – the New College pride – and St. Mike's United, KPE and LGBTOut and Woodsworth Inclusive, they've all been reaching out to us and asking if they can do anything to help. We've been able to host a bunch of events this year with the help of somebody's who's done it before. I think that's really helped bring InPride to life, and I'm really happy with how it's been going.
How do you think INpride contributes to the LGBTQ+ community at U of T? Do you think there are areas for improvement at U of T in general, to better support LGBTQ+ students?
JM: People really identify with specific colleges. Colleges are the pillars of U of T, essentially. To have all of the colleges having a pride group is important. Just being here, just the presence of INpride, even if we have no one coming to the meetings. In terms of U of T, I think it many ways, it was maybe inaccessible. Like, LGBTOut events, I didn't go to any in first year, because I wasn't comfortable with my sexuality, and wasn't really comfortable attending larger events like that. Just more support for students, especially residents. Being an LGBT student, I felt that I could have been supported in many other ways, and the ways in which I wasn't supported, I think INpride will make up for that. If a student that identifies as LGBT doesn't feel welcome, we're hoping that INpride changes that. And I know for me, it would've, because at least some community would've accepted me at Innis, because I had a hard time fitting in here.
SL: I think it's super important to have specific queer organizations within each college, because it's sort of like the first point of access for new students, and even if they don't want to go to the meetings yet or they aren't ready yet, it's still nice to know that it is a thing that is available to them. It's kind of a welcoming thing to be going to a new school to, and just being able to create a community where you see the relatively same group of people over a period of time, I think that also really helps, especially when you're in a new school and you want to make new friends, because clubs are a really great way to make new friends. I think there's always room for improvement, and a way to be more welcoming. And I think a way to do that is by people taking the initiative to learn and be accepting. It's tricky, because U of T is such a large school, and everybody's schedules are super chaotic. They [LGBTOut] are doing really great things, like there's the drop-in centre at Sir Dan's, but it's just so hard for people to go out to these things because of their chaotic class schedules. I think it is nice to have really big one-off events, because even if you don't go or aren't super comfortable in crowds, it's saying that 'we care about you here, and there is a space for you'. Personally, when I came to U of T, I felt pretty welcomed. I actually chose U of T because of how queer-positive it was, and that was one of the factors for me in choosing a university, was that it was very queer-positive.
Find INpride online at Facebook or on Instagram to keep up to date on all INpride events!