If you're a Toronto resident, or have been on campus for the past month and a half, you have probably seen flyers made by Reg Hartt. They're in black and white, with titles in big black letters and quotes from different sources, that promote Hartt and his screenings. They also feature images, the most prominent being Nosferatu, a character from F.W. Murnau's 1922 Dracula adaptation of the same name. What these flyers are advertising are screenings at Reg Hartt's Cineforum, a theater in his own home.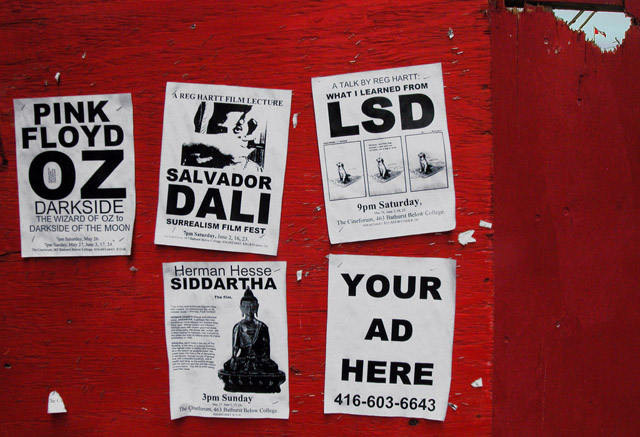 Reg Hartt was born in New Brunswick but moved to Toronto at a young age, screening movies around the city until settling in his home on Bathurst & College in 1992 and dubbing it the Cineforum. The films Hartt screens tend to be from the early to mid-20th century, with a focus on horror, animation, and bizarre oddities of days past. Nosferatu is one of his more common screenings, showing every weekend this October. From his own experimental filmmaking, one of Hartt's more famous productions is Kid Dracula, which pairs Nosferatu with Radiohead's album Kid A. Instead of using the original score, Hartt picked out the music himself, using classical pieces from Beethoven, Chopin and more.
I decided to attend a screening of Nosferatu on a rainy Saturday night to experience the Cineforum for myself. Even though the flyer warns to "come with someone with whom you can sleep after the film," I couldn't find anyone to go with me. In fact, I was the only person who showed up. Hartt's home is one of those narrow houses, a bit run down with a red neon sign to get the attention of guests. The Cineforum itself is what would probably be the living room of a regular house – a very tight space with six rows of three office chairs for seating. On the walls, posters (mostly for classic horror films, though a poster for The Twilight Saga: New Moon stands out) and masks surround you at every angle. I've heard great things about the 1922 Nosferatu, though I'm sure like many university students, my main association with the vampire is from his traumatizing appearance in the SpongeBob episode, "Graveyard Shift." Still, the movie is well worth watching, and the appearance of Nosferatu is viscerally terrifying and the biggest strength of the film. Reg Hartt's music selections also fit very well with the images at points, and I'm glad I got to experience it differently.
While he does have many fans, Reg Hartt is not always viewed in the best light. Reg Hartt experience isn't perfect, but it's clear by looking around the room that he is very passionate about movies and that he wants to share that passion with others.
If you're looking for something different to do in the city, the Cineforum is a recommended experience to watch a movie in a new way, even if you're not familiar with the types of films Hartt shows.