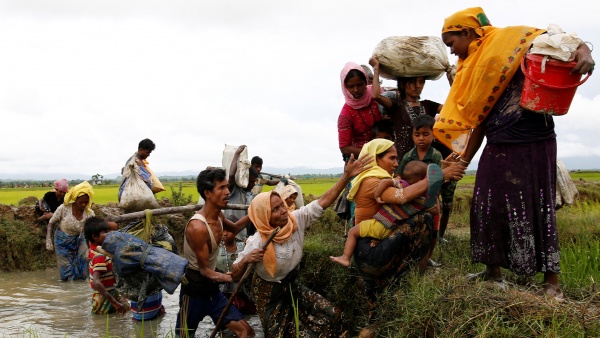 With all the talk of privilege, identity, and autonomy discussed on many university campuses, you would expect more focus would have been given towards the Rohingya, a stateless, Indo-Aryan group residing in Rakhine State, Myanmar. In some ways this is understandable, since they only comprise approximately 1 million people—yet in 2013, the UN declared the Rohingya to be among the most persecuted minorities in the world. They have for the past 35 years been denied citizenship and recognition as a nationality. Further, frequent military crackdowns on the community, including the current one, show all the signs of an ongoing ethnic cleansing.
Myanmar, a Buddhist majority country east of Bangladesh, has recently had several ultra-nationalist groups aiming to expel the Muslim-majority Rohingya, calling them "illegal immigrants" from Bangladesh, and refusing to recognize them as the indigenous inhabitants of Rakhine State, previously known as Arakan. When, in August 2017, 12 security forces were killed by Rohingya rebel groups, Myanmar retaliated through "clearance operations," killing 3,000 Rohingya and burning villages, forcing 500,000 people to flee to an already densely-populated Bangladesh.
The question that needs to be addressed here is what us as Canadians are willing to do to help people like the Rohingya and others. We need to ask whether we should take these refugees in, or as U of T political science professor Jacques Bertrand, a member of the Centre for Southeast Asian Studies, states, if we "should continue to condemn the situation, […] to press the Myanmar government through diplomacy."
Much of the crisis began during the British occupation of the region, which led to labourers from today's India and Bangladesh being shipped to modern-day Myanmar to work for the Empire. However, though there are 135 officially recognized ethnicities in Myanmar, the indigenous Rohingya are not among them. Potentially, the government's neglect of the Rohingya's basic human rights may be due to similar physical and religious characteristics between the Rohingya and Bangladeshis—both are dark-skinned and Muslim—compared to the paler, Buddhist-majority people of Myanmar.
Nobel Peace Prize winner and State Chancellor of Myanmar, Aung San Suu Kyi, has blamed the violence on "terrorists," and though she does not control the military, has been criticized by the international community for not condemning the indiscriminate use of force against the Rohingya. Recently she has condemned the violence in Rakhine, yet did not mention the Rohingya.
Now that hundreds of thousands of Rohingya are fleeing into Bangladesh, Prime Minister Sheikh Hasina has offered temporary shelter for them, but is urging the international community to pressure Myanmar into allowing the Rohingya safe passage home. Bangladesh is a tiny country geographically with a population of 163 million, and their resources in support of asylum seekers can only stretch so far.
Compared to Bangladesh, Canada is far better positioned to allow a mitigation of this crisis by taking vulnerable refugees away from the violence and destitution plaguing them in Myanmar—a sentiment also shared by the Myanmar-Canadian community. That is why Pitasanna Shanmugathas, a fourth-year student at the University of Toronto, launched a petition at the House of Commons, which includes stripping the honorary Canadian citizenship of Aung San Suu Kyi and demands that Canada grant Rohingya people refugee status. The petition has already secured the support of New Democratic Party (NDP) MP Niki Ashton.
Bringing Rohingya refugees to Canada, though beneficial, would not solve the overall underlying issues in Myanmar. This is a problem of identity and perception by the Burmese people towards the Rohingya. Although they are indigenous to Rakhine, they look different from other ethnicities in Myanmar, so racism is clearly a relevant factor to the violence and, considering the anti-Muslim sentiment throughout much of Myanmar, religion is another one.
The Rohingya, according to their government, are not citizens. Thus, they cannot be nearly as involved in their country as other ethnic groups. Placing pressure on Myanmar to allow citizenship for the Rohingya would be a first step in mitigating the crisis. Condemnation by the UN and the international community would be others, as would sanctions.
How we proceed in pressuring Myanmar to allow the Rohingya to be recognized and accepted into Burmese society can save more lives and help more than by simply bringing in refugees. Rakhine is their ancestral homeland, and it is our duty as members of the international community to promote the values of freedom, equity, and tolerance of all.