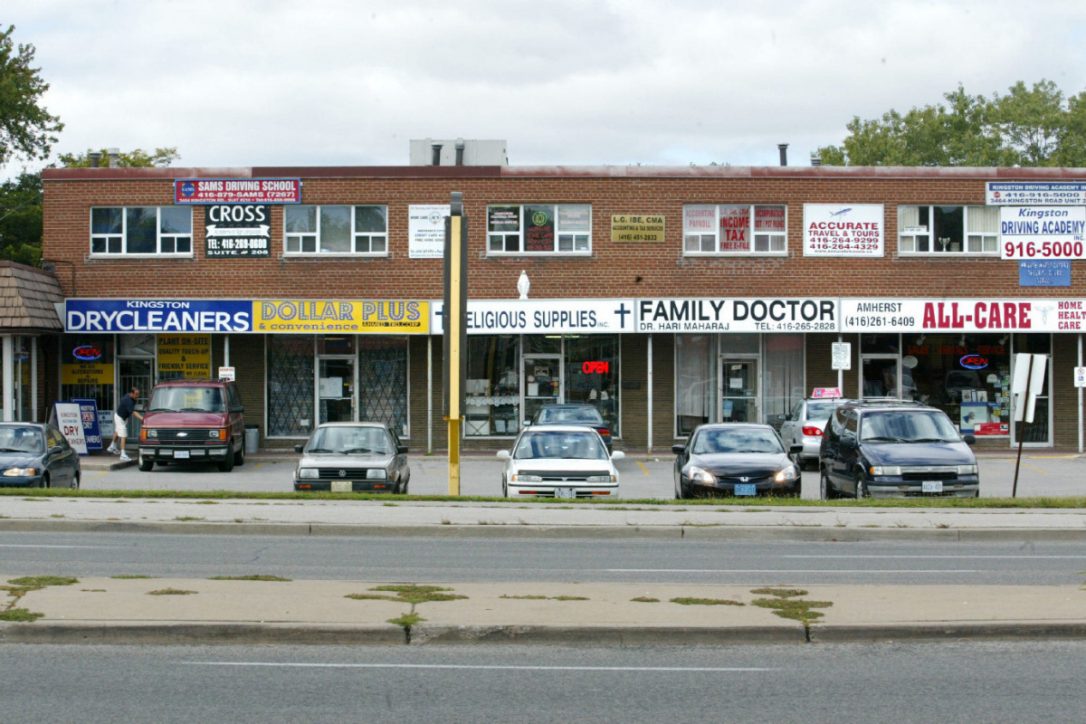 Image courtesy of the Toronto Star
On a weekday afternoon, numerous corridors in downtown Toronto echo the dense, diverse, short blocks that Jane Jacobs loved. Attractive to the community, while fulfilling residents' daily needs, these tree-lined avenues are regularly filled with residents walking between independent grocers, local banks, and coffee shops.
Take Parliament Street, for example. On a weekday afternoon the street is buzzing with community, as parents pick up groceries and drop children off at dance lessons. Even Bloor Street, one of the city's busiest corridors, can have a strange quaintness about it after hours, when car traffic is less frequent and cyclists and pedestrians can jaywalk between intersections.
We often do not apply the same romanticism to the strip plazas which comprise our city's post-war suburbs. Defined by their small front-facing potholed parking lots, shabby signage, and collection of independent shops and restaurants, these artifacts of the Fordist era are rarely subject to the admiration expressed of the unique avenues of the downtown core. Yet despite their inaccessibility and lack of objective beauty, these relics of a bygone era deserve to be preserved as vigorously as the storefronts of downtown streets.
The strip plaza on the corner of my Scarborough neighbourhood is an excellent illustration of the low-rent retail malls which so frequently appear across Toronto's suburban landscape. Recognizable by its poorly maintained front-facing parking lot and disarray of signs, advertising everything from $8 haircuts to $15 Lebanese-style pizza, the plaza is home to a number of independent hairdressers, restaurants, bakeries, cleaners, and florists.  In a small sushi restaurant at the plaza's west end, a quiet Japanese couple serves a maximum of 12 patrons lunch on weekday afternoons, while their neighbour provides customers with East African take-out late into the evening. Further down, a middle-eastern immigrant serves baklava and cookies to customers by the pound and another shop offers inexpensive haircuts and manicures.
As first identified by urban activist John Lorinc, my prototype of the typical Scarborough plaza emphasizes the importance of ensuring their resilience –their quintessential low-rents and laissez-faire landlords have produced a haven for ethnic businesses.
In the same way the forces of gentrification have pushed low-income and immigrant populations out of the downtown core to the suburbs, ethnic businesses have been displaced from their traditional home along walkable downtown corridors to the auto-oriented suburbs. Even along Parliament Street, where many quirky and experimental computer stores, restaurants, and independent grocers exist, these stores quickly give way to chains like Starbucks and Home Hardware, along with bourgeoisie bars and coffee shops. The simple unattractiveness, ethnic diversity, and declining income of the suburbs have allowed these business to locate in places like the strip plazas of Scarborough.
Not all plazas share in this unseen value, however. As my parents often joke in reference to a strip plaza on Kingston Road, in the same plaza where we get our fish and chips, we could also get weed, piercings, and motorbike memorabilia. It is more difficult to understand what value shops like these bring to community life, yet again, as Jane Jacobs argued, spaces like these that offer low-rent and are unattractive to most users and business, offer a space for the riskier, low-profit businesses that make the city unique. As suburban town centres and downtown cores are increasingly defined by chain retailers, which make Toronto ever less distinguishable from other North American cities, our shabby strip plazas allow us to recognize our neighbourhood and associate it with a distinct sense of place. Indeed, nowhere in the world has the exact same design and bizarre collection of shops as the Kingston Road plaza where my family so often purchases take-out.
It seems unlikely that the Scarborough strip plaza will disappear overnight. Almost every major arterial street in the borough is lined with low-rise commercial spaces. However, there can be no question that these businesses will be threatened as the city looks to encourage density and limit congestion. The suburban strip plazas are inherently associated with low-density, as their auto-oriented, single-storey design means parking lots often accommodate an equal square-footage as the stores themselves. The multiple access points the plazas' characteristic parking lots demand also do not assist with battling congestion. Indeed these access points slow traffic on suburban arterials, originally designed to facilitate through-traffic alone.
These features' objective unattractiveness makes its challenging to discover activists who will campaign for their protection. In fact, most suburban residents, or at least those most often in attendance at public consultations, will likely not be unhappy to see these shabbier features of their neighbourhoods disappear. In North York, for example, the Sunnybrook Plaza – one of the first of its kind in the city – is slated to be demolished and replaced with a thirteen-storey residential tower with mixed-use commercial space on the ground floor. The proposal went through planning with surprisingly little public opposition. A similar project is being considered on top of two neighbouring strip plazas in the Agincourt neighbourhood.
Rather than demolishing these ethnic businesses and unique commercial spaces, these original structures should be accommodated into city plans to increase density and limit congestion. Indeed planners should take heed from the failures of intensification projects in the downtown core. It has often been the case that immigrant businesses are priced out of the retail spaces incorporated into new mixed-use designs, and even more troublingly, these storefronts often sit empty.
Therefore, these valuable small business and inherently low-density strip plazas must be accommodated. This apparent paradox will not be easily solved. One suggestion would be to expand streets into the large parking-lots characteristic of strip plazas, to allow for easier nonautomotive access and limit congestion. Additionally, new mixed-use developments must ensure at least some shabbier, free-market strip plazas remain after new development is installed.
Suburban strip plazas may not be walkable or beautiful, but Torontonians should learn to accommodate them and protect them to ensure our city remains unique and prosperous for small business.