On Thursday, October 13th, 2017, Hart Hanson, creator of the hit series Bones, joined fans of his new book, The Driver, at his talk and book launch. The event was coordinated with University College, the college Hanson graduated from in 1981, and took place at Desautels Hall in the Rotman School of Management. As darkness falls upon St. George St., where the floor length windows face, Hart Hanson strides in ready to discuss both his production career and riveting debut novel.
The event was moderated by John Doyle, who is an established TV critic and columnist for The Globe and Mail. With a laid-back personality, Doyle combines questions with entertaining commentary of Hanson's talk. Hanson began this talk by explaining how he came to be in television production.
The journey to becoming an author was long and winding, and it was not until Hanson was older that he saw the popularity that is now credited to him, thanks to his big break as creator of Bones. When asked about the beginning of Bones, Hanson joked "Bones did fine. The critics were divided on it. It sold overseas like pancakes. Do pancakes sell overseas?"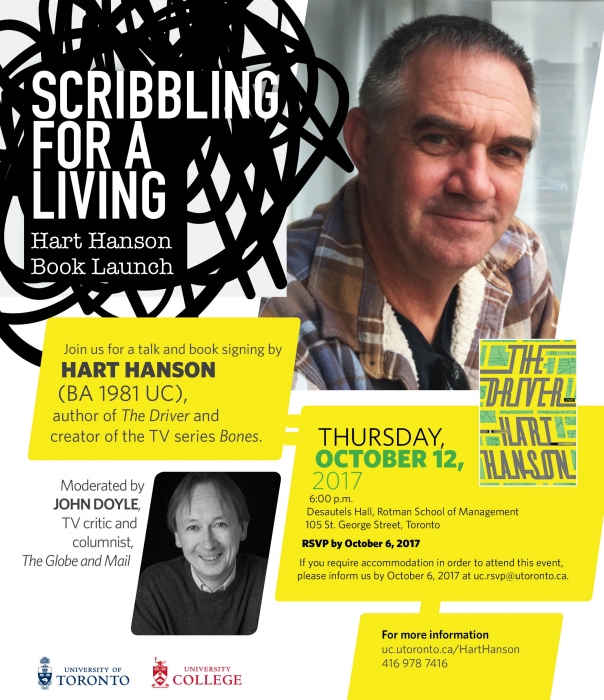 John Doyle began by asking Hanson to talk about his different experiences in writing. Doyle introduces the main difference between writing for a TV show and writing your own novel, with the idea that it is you and the text, alone. Which, for Hanson, had not happened since he graduated university. To be able to sit down with ideas and plot concepts, by yourself, is a completely distinct situation.
"It is a huge difference writing a book, and working on a TV show, I found that I had tinnitus, when I started writing my book. Because I had always been surrounded by so much noise at a TV show, I didn't know I had tinnitus. But all of a sudden when you're writing a book, it's very quiet. That winding noise in your head, from a misspent youth, pushes its way forward."
Writing his novel was a change of pace for Hanson, and one that could not have come at a better time in his career. After the success of his show, Hanson decided that he wanted to see if he could go back to writing prose – and all the fans of his book believe that he can, and should continue doing so.
The Driver is a crime-fiction thriller, written in the perspective of Michael Skellig. Skelling is an Army Special Forces sergeant whose limo company is staffed by a team of veterans, including his Afghan interpreter. Hanson came up with the plot for the novel, after listening to a driver on his way to an event, who was trying to find a jobs for veterans – there arose the story. "That's where the idea came from. From someone trying so hard to help out his fellow veterans."
After an enjoyable discussion about the writing process, and what is was like advancing within the film industry, all attendees were led to the reception area in the room beside the hall, which featured delicious hors d'oeuvres, as well as a table set up with copies of Hanson's novel, available for purchase by the U of T Bookstore.
Hanson was also given a booth beside a wall of balloons bearing the title of his book, where all attendees could bring their copy to be signed. He greeted everyone enthusiastically, as excited to be there as everyone else.
For anyone interested in reading the novel, check out Hanson at the Bookstore and stay tuned – he seems ready to continue the exciting journey of being an author!