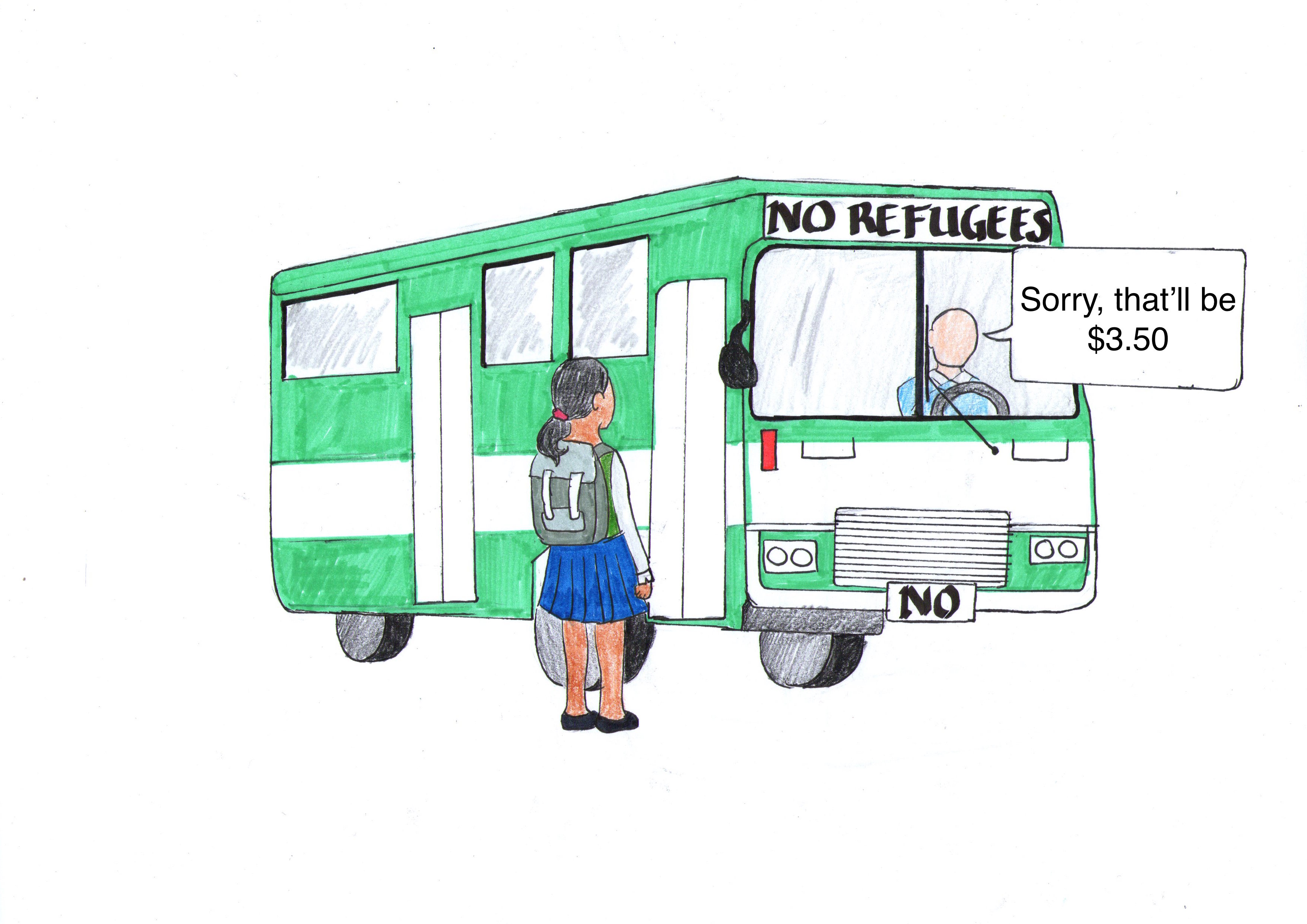 Innis votes no to accepting more refugee students
The cost of TTC fare in Toronto is $3.25, or approximately $6.50 daily. In the next year or two, the fee will likely rise to $3.50 per trip. Most people would agree that this is pretty expensive for a transit system that rightfully deserves its extensive complaints. But what if that was the cost to, quite literally, change someone's life?
In the ICSS Referendum conducted a few weeks ago, students were given a series of questions to answer which asked for their input on a series of important increases, adjustments, and recognitions that would take place in the next school year. The Referendum is one of the many benefits of the democratic system of student societies, allowing any student who pays fees to the ICSS the ability to weigh in on how that money will be spent.
What came as the most disappointing shock to many council members and voting students was that the World University Service of Canada levy increase did not pass. Fair enough–perhaps many have never heard of this so-called "WUSC". But if voting students read the preamble, which is the hope, they would have a clear and comprehensive view of what the increase would entail, and why it was being proposed. The preamble states, "WUSC is an NGO that partners up with universities across the country to sponsor tuition and living costs for refugee students. Currently, the ICSS sponsors one refugee every two years. This increase would allow the ICSS WUSC Committee to host one refugee student every year, instead of one refugee every other year."
Although the results were not overwhelming by any means, a "no" to the increase ultimately won by two votes. Having conducted a small survey to figure out why students responded in the negative, it became clear that the majority of the explanations fell into the category of "I don't want a budget increase, no matter what." Surprisingly, the least popular reason for voting no was "I've never heard of WUSC," even less than those who claimed "I didn't agree with the proposal."
When I spoke to Donna Pan, the co-president of WUSC at Innis, she was upset and surprised, but understood where students were coming from. "I think the main issue was that while there was a detailed description on what the WUSC levy was on the referendum, once students see us asking for more money, they don't bother really reading what it's for. Because of that, next year Innis WUSC will be running a yes campaign and we're going to try again. It's an incredible cause and I know that if more people were educated on refugee and migrant issues, they wouldn't be so quick to reject it."
Donna's statement appears to ring true, evidenced by the fact that every increase was voted down, including the Annual Consumer Price Index Increase, which was the equivalent of a few cents.
But a blatant rejection of any fee increase simply for the sake of it being an increase is detrimental to getting anything done. What now seems like an appropriate reference, the Fordist (that's Rob, not Henry) sanctuary of "taxpayer money" or, in this case student money, stop the council from better serving its students. For example, the ICSS fee increase had to be technically labelled as such, but it wouldn't actually change the fee that each student pays to the ICSS per session. In the preamble, it states, "This referendum will increase the amount students pay to the ICSS, but since students will no longer be required to pay the Town Hall levy, it will not increase the overall amount students pay to Innis College." Nonetheless, this didn't pass either and Innis students will actually pay five dollars less to the ICSS next year.
Another issue that simply can't be overlooked is the lack of participation in making these kinds of important decisions. Only 93 students participated in the referendum.That's about five per cent of the approximate population of full-time and part-time students at the college.It may even be the case that this is too small a sample size and the ratios could be dramatically different if fifty per cent as opposed to five cast their votes. Most importantly, this 5 per cent decided that there would be no benefit helping another worthy student participate in the privilege of attending U of T.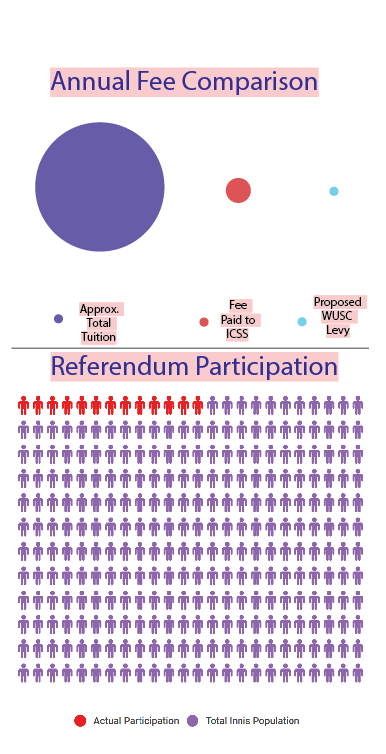 For the sake of full disclosure, I'm a member of another WUSC Local Committee myself, and I understand my bias in making this argument. But there's a reason I joined in the first place, and I'm not dismissive to the criticisms WUSC and other organizations like it continue to receive. It has been said that they create a competitive system in order to bring one lucky student as well as reinforce the binary between "first" and "third"world. Some have gone so far as to say that the structure of this organization perpetuates the white saviour complex of the Western world.
All of this is worthy of discussion, absolutely. It may be more worthwhile to build these communities up instead of uprooting the few who are considered the "best" by some set of standards. But having met more than one student who has come through the Student Refugee Program (SRP) within WUSC, it's clear that this organization has changed thousands of lives. The attitudes of students are overwhelmingly similar –they are thankful, endlessly humble, and kind people. Many continue on in their WUSC Committees, supporting the incoming students each summer, and helping raise awareness and money throughout the year.
This increase would have been the equivalent of buying a few extra coffees over the course of an entire school year. It's the cost of a round trip on the TTC. Not to sound sentimental, but it's a cost that's unnoticeable to us, yet life altering for another human being. Taking all this into account and in light of the intensive conversation surrounding the current refugee crisis, this decision comes as more than a simple disappointment. In a culturally critical moment, Innis College voted to be on the wrong side of history. Let's hope that we can do better next year.
---
Featured image courtesy of Tess King